Skip to Content
Reliable Family Dentistry in Sherwood Park
Whether you need a dentist for yourself, your child, or the older members of your family, SmileSense can answer the call. Our warm, professional staff loves working with children and can help them get excited about their oral health. We recognize that instituting an oral health care regimen at an early age will provide long-term benefits. Not only will baby teeth remain healthy and pave the way for adult teeth, but such a routine will transition into adulthood for healthy teeth that last. As a local dentist in Sherwood Park, AB, we are committed to growing with your family. Therefore, we offer convenient family dentistry appointments, providing care for the whole household. Call us today to schedule a family dental appointment for you and your loved ones.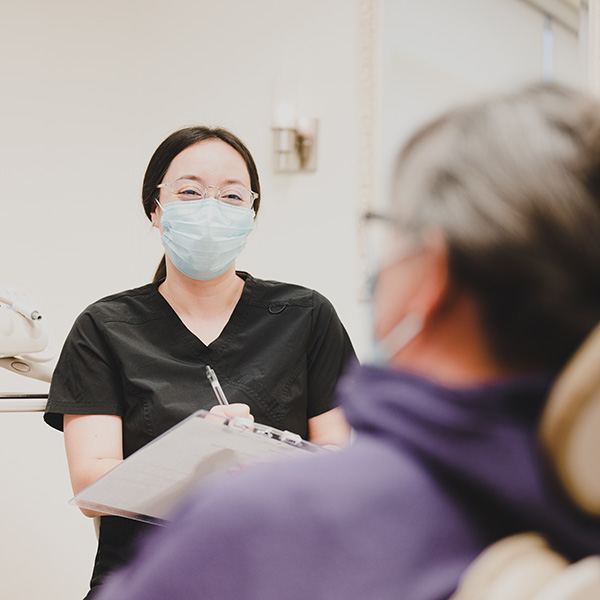 Offering Gentle Dentistry for the Children in Your Family
Setting your child on a path toward a lifetime of oral health begins at an early stage. Dental professionals suggest children should visit a family dentist around the age of 2, or sooner if a parent has a specific concern. Early dental visits accomplish several goals. Your child will become familiar with our family dentistry, the staff, and the equipment, helping avoid any phobias that could develop by waiting. Additionally, it allows our team to perform a quick examination to check for any potential issues. During your visit, we will also help prepare parents for ways to promote good oral hygiene at home. Baby teeth are an influential factor in the development of adult teeth. If a child's baby teeth decay or fall out before adult teeth are ready, it can cause spacing issues that may affect speech or chewing. We strive to provide gentle and caring dentistry services for your child to help keep them excited about the dentist, which will help them maintain a healthy mouth.
Schedule a Family Dental Appointment Today
SmileSense offers a comprehensive set of dental services for your family's dental and oral health needs. Our friendly and caring staff strive to provide excellent customer service and care for patients of all ages. We all live locally, and treat our patients like neighbors. We are excited to see your smiles in our office and in our community. Call us today at 780-467-3388 to schedule an appointment, or fill our our online form.
Call SmileSense for Your Free Dental Consultation